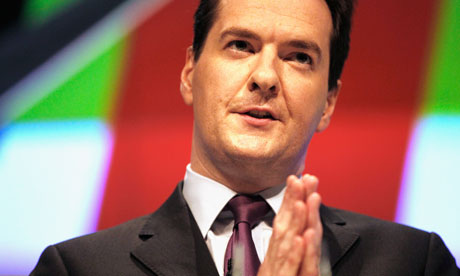 After three quarters of economic growth, George Osborne has already transitioned from cautious optimism to full-on self congratulation. "The UK has been singled out as an example of the improvement and there is recognition that we have stuck to our economic plan", he said last month.
Let's leave aside that he hasn't stuck to his plan at all (the deficit was forecast in 2010 to be far lower today than it is, and as a result of two flatlining years
he is borrowing over £200 billion more than planned
). Let's even underplay that even today's public debt figures £8.1 billion this October, down from £8.2 billion for October last year, are hardly impressive.
Nevertheless the level of UK economic growth in the last three quarters (nine months) has surprised and exceeded most independent forecasts.
The Bank of England declared earlier this week
that
the UK is in "sustained recovery".
Three consecutive quarters of reasonable growth (by historical standards) is fairly hard to dismiss. What economists now disagree about is not whether recovery has been
sustained
, but whether it is
sustainable
.
There's a good analysis of this question by the
Independent's Ben Chu here
. The key point is that the recovery is driven (largely) by debt, which has been both encouraged (through schemes like
Help to Buy
) and enforced (through
declining real wages
, benefits and high unemployment). As the chart below, personal debt remains at crisis-era highs
The question therefore is can growth continue with debt at high levels and real incomes declining? The unstable retail sales figures - with
October registering a fall
that confounded predictions - are a warning sign to the optimists.
So the question is whether the recovery will stall - due to people reining in their spending without any compensating surge in government or corporate investment - or will it continue to grow as people take on ever greater debts?
If the latter is the case, then the ultimate result may be a sharp crash, caused by unsustainable levels of debt. That scenario should make George Osborne pray for the economy to stall (while he devises a sustainable growth strategy - something some of his opponents have been advocating and outlining since 2010).