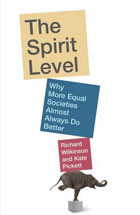 We are pleased to announce that Professor Richard Wilkinson will be speaking at the
LEAP Conference 'Capitalism Isn't Working'
on 25th April 2009.
Richard will be taking part in the morning plenary session 'Who Pays?' and then holding a free lunchtime meeting on his new book
The Spirit Level
- why more equal societies almost always do better (pictured left). The Guardian recently featured the findings of the work - which you can
download here
.
For years, Professor Wilkinson has done pioneering research work on the effect that inequality has on societies - and contributed to the March 2007
LEAP Red Papers '10 Years On: Whatever happened to equality?'
(free download, Wilkinson's paper is on p.6).
You can
register online for the LEAP conference
. Full agenda details will be published soon.